One of the more positive results of the Corona epidemic is that we have started to value our outdoor space more. Lockdowns meant that we were unable to go out quite as much and so we tried to get out whilst staying in. People living in apartment blocks found themselves rediscovering their often bleak and hard balconies and roof gardens.
Previously people had not paid that much attention to their outdoor spaces. After a hectic day at work it was already getting dark and all they wanted to do was kick off their shoes and slump in front of the television. With more people working from home, suddenly the almost forgotten balcony became an extra room, a room with a great view, a breath of fresh air.
The issue with their outdoor space was they had never really considered it before. It often contained some functional furniture but other than that it was a concrete and metal or glass box. It lacked color or softness. People started to think about transforming their concrete box into an oasis of color and texture, something they had admired periodically when gazing at the balconies of others. They had to think where to start and what the vision should be.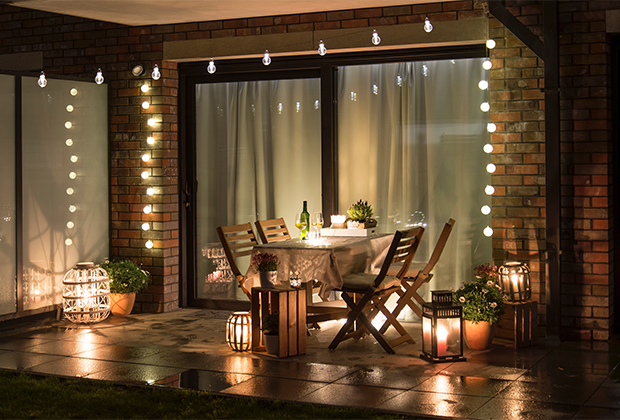 Here are some ideas that could transform the space:
Furniture – Replace dull and lack luster furniture for something a little brighter or strip the varnish off your old furniture and repaint it in more vibrant colors. Add colorful cushions to your seating.
Clean and paint – Where planning regulations allow it you can paint the walls so that they are brighter. A scrub can remove soot that settles on the walls from the cars below.
Plants – Go down to your local garden center and select a variety of plants. Ask for advice, you want to make sure that you choose plants that need little maintenance. You also want to consider how much light you have when selecting your plants. Real expertise is needed when deciding which plants to grow, you want color throughout the year if possible. You really don't want to walk out onto your balcony to find dormant plants everywhere in the winter months.
Lighting – As you may very well get out onto your balcony mostly at night, you want to make sure that you have adequate lighting to enjoy the space. Floodlights may be overpowering and get into your eyes but a number of smaller lights can add just the right glow. The right light fittings can also add an architectural lift to the area. If you want to get a little funky, then add a string of multicolored bulbs.
Displaying your pots – Many people amass a number of pots of varying sizes, shapes and colors. They can clutter up the limited space and whilst the contents within may be beautiful, the pots themselves need a little lift. There are three possible solutions. The first is that you buy expensive beautiful pots which act as a feature in themselves. That involves you needing to replant your flowers, for some people this is a daunting process and involves another trip to the garden center to pick up potting soil and tools. The second really stunning option is hanging baskets. They really add great color higher up but unless you can do it yourself, you will need to hire a handyman to attach them to the wall. The final option is a plant stand. These come in many different shapes and forms and can add an architectural element and an extra point of interest to the balcony. Porat Metal based in Israel have created the ultimate cheat pot stand. You pull out a sheet of metal from a cardboard sleeve and in about 30 seconds push it into shape. There are a number of designs including a quaint wheelbarrow for you to place your plant pots in.
Our outdoor spaces are there for us to use and enjoy. Dress them up with a little color and they will be the ultimate place for you to entertain and relax.